Key Duplicating
Copy your home, office or padlock key quickly and easily.

COMPUTER PAINT MATCHING
Bring us any color sample and we'll match it!

WINDOW SHADES CUT TO FIT
Create your own look to fit any window.

GLASS AND SCREEN CUT TO FIT
Most hardware stores no longer cut glass or screen, but we do!

PROPANE EXCHANGES – 7 DAYS A WEEK
Safe, simple, and easy.

CUT WIRE, ROPE, CHAIN
We cut chains to custom lengths on site while you wait!

ACE GIFT CARDS
Makes a great gift for any occasion.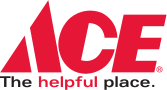 ACE REWARDS
The best tools for saving money.SM